Benefits of Managed IT Services
Simplify Your Dedicated Help Desk With Technical Support Call Center
Efficiency
MSP increase operational efficiency, allowing businesses to focus on their core competencies.
Data Breaches
With advanced security measures, engineers ensure that firms are protected from ransomware and phishing attacks.
Scalability
SMBs have the freedom to scale their various IT technologies as their operations expand.
Proactive Approach
When it comes to IT management, our job is to take a preventative stance, fixing problems before they become serious ones.
Cost Savings
Organizations no longer need to make costly capital investments since we offer predictable IT costs.
Expertise
With access to a team of skilled experts, companies can rest assured that their network infrastructure is in good hands.
Our Services
Take Control of Your Department Roles with Our Engineers
Define the Service Level Agreement (SLA)
The Helpdesk Ticketing System offers a centralized location for all IT-related inquiries, ensuring that all problem issues are quickly and successfully fixed. In order to keep your business operating remotely, our team of support analysts is available round-the-clock to provide incident prompt and dependable resolution. The staff receives ongoing training to stay abreast of the latest technical knowledge.
Strengthen Your Encryption
Your business is prevented from Spam and Malware inboxes to quickly filter and sanitizes every email before it is delivered to your external users. The Email Gateway Defense integrates with Microsoft 365, Exchange, and other email services. It also protects email messages with Backup and Recovery to your cloud storage such as Microsoft OneDrive.
Single SignOn to Corporate Resources
The modern choice of IT framework is provided by Zero Trust Network Access (ZTNA) security. Traditional technologies like VPNs - ZTNA is the better choice to allow flexibility for end users to use personal BYOD programs. With a zero-trust policy, we guarantee that only authorized users are given access.
Cloud Delivery Sanctioned Apps
Through the use of cutting-edge encryption and authentication technologies, the Citrix Secure Private Access (SPA) service provides ZTNA remote access to the applications and data of your SaaS cloud. Without sacrificing security, your business can benefit from the hybrid workforce to enable a new architecture.
Message Announcements
DeskAlerts Software is an alert notification system that sends one-way messages to computer desktops, laptops, and other devices like cell phones and tablets. It can be used to display on your monitors with the main features for pop-up windows, screensaver, wallpaper, emergencies, campaigns, video playback, locked screen alert, scrolling texts, email, and SMS notifications.
Ensuring Business Continuity
In the case of a disaster or data loss, the BDR Suite can be deployed flexibly in any location like on-premise, offsite, and in the public cloud. Several of the applications provide Backup & Replication for Microsoft 365, Microsoft Windows, Hyper-V, VMware, Azure, AWS, Google Workspace, File Servers, and Virtual Machines (VMs) on Linux OS or Windows OS.
Real-time Endpoint Monitoring
For the company assets, the Endpoint and Detection Response (EDR) service offers malware protection and remediation capabilities. Our effective EDR tools will target and detect thousands of virus attacks from malicious behaviors, will automatically isolate the steps, and contain serious damage.
Proactive Agents Automation
Your network systems are actively monitored and managed by our Remote Monitoring and Management (RMM) platform, guaranteeing maximum uptime and performance. Our administrators make sure that each computer machine is always updated with the latest OS patches, operating efficiently and securely by providing real-time alerts, device reporting, and expert analysis.
Deploy Mobile Devices in the Workplace
In order to ensure maximum security and defense against online threats, our Mobile Device Management (MDM) platform provides remote administration of your business's mobile devices. Each mobile device can be securely managed and monitored with the dashboard, the process of all preloaded approved apps, and compliance with the security policies of your organization.
Sean Tierney
The cybersecurity audit assessment was thorough and eye-opening. Their recommendations have helped us to strengthen our security posture and ensure the safety of our critical data. We are grateful for their expertise and guidance.

Laura Woolley
The services provided by Computer Services Tech have been instrumental in streamlining our IT operations. Their expert support and proactive approach have been a game-changer for us. We highly recommend them to anyone looking for reliable IT support
Fuel Your Success with Our Knowledge Base
Stay Up-to-Date with the Latest Industry Insights and Trends. Advance Your Business with Our Expert Resources.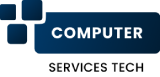 Experience the power of proactive IT management and unlock your business's full potential with our Managed IT solutions. Boost your network's performance with top-notch remote monitoring which is an essential tool for any organization that wants to ensure the uptime and security of its network. This can be done using specialized software, hardware, or a combination of both.
Proactive IT Management
Remote Network Monitoring
Managed IT Solutions