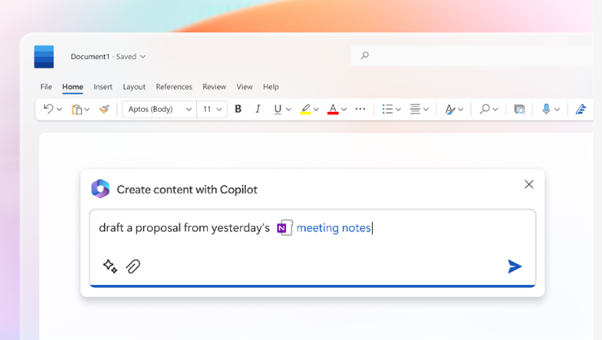 In today's fast-paced work environment, complex tasks, and repetitive processes often hinder productivity and efficiency.
Recognizing this challenge, Microsoft has developed a game-changing solution: Microsoft 365 Copilot.
Scheduled for release shortly, this innovative tool has sparked anticipation among users worldwide. Upon its release, Microsoft 365 Copilot will be available for download from the official Microsoft website and select authorized resellers.
This powerful assistant aims to streamline tasks, boost user effectiveness, and enhance efficiency.
Get ready to revolutionize your workflow and achieve unparalleled productivity with this groundbreaking addition to the Microsoft 365 suite.
Microsoft 365 Copilot: Transforming Work in Three Powerful Ways

GitHub data indicates that Copilot promises to unlock productivity for everyone. 88% of developers who use GitHub Copilot report being more productive, 74% report being able to focus on more rewarding work, and 77% report spending less time searching for knowledge or examples.
Microsoft 365 Copilot is the latest addition to this family of products, and it has the power to transform your team in three significant ways:
Unleash Creativity
Microsoft 365 Copilot enables users to jump-start the creative process by providing a first draft in applications like Word, PowerPoint, and Excel.
It saves time in writing, sourcing, and editing by offering suggestions for editing and iteration.
Users have control over their ideas and can prompt Copilot to shorten, rewrite, or provide feedback to further enhance their work.
Unlock Productivity
Copilot helps users focus on the most important aspects of their work by automating tasks and providing assistance.
In Outlook

, it summarizes long email threads and suggests quick replies, enabling users to clear their inboxes efficiently.
In Teams meetings,

Copilot can summarize discussions, highlight points of agreement or disagreement, and suggest action items in real-time.
In the Power Platform

, Copilot allows users to automate repetitive tasks, create chatbots, and swiftly develop functional applications.
Streamline Data Analysis and Visualization
With Copilot in Excel, users can analyze trends and effortlessly create visually appealing data visualizations. This functionality facilitates quick data exploration and presentation preparation, saving time and improving efficiency in data-related tasks.
Insights for Business Leaders: Embracing AI Responsibly and Building AI Aptitude
For business leaders looking to adopt AI responsibly, here are three insights:
Digital Debt: Unlocking Innovation
Potential Digital debt, stemming from the overwhelming volume of data, emails, and chats, has become an obstacle to innovation.
Organizations can enhance their existing communications by addressing this challenge, increasing productivity and creativity.
Employees who need help managing digital debt are 3.5 times more likely to face difficulties in being innovative or thinking strategically.
Empowering the AI-Employee Alliance
Despite concerns about job displacement, employees prioritize the promise of AI to alleviate their workload rather than the fear of losing their jobs.
Managers focus on empowering employees by integrating AI into their workflows, recognizing its potential to boost productivity.
AI is seen as more valuable in the workplace for enhancing productivity rather than reducing headcount.
AI Aptitude for Every Employee
The AI era demands that all employees, regardless of their AI expertise, develop new core competencies such as prompt engineering.
Leaders anticipate a need for new skills in the AI era, and the demand for AI-centric skills is reflected in the significant increase in job postings mentioning AI-related technologies.
Empowering Businesses in the AI Era: Microsoft 365 Copilot Early Access Program and New Capabilities




Microsoft 365 Copilot combines all the tools you need to ensure that every employee has access to the right applications and data.
It combines Office 365, Windows 10, and Enterprise Mobility + Security into one simple experience that provides greater control over security and compliance while reducing costs.
The service includes:
Grounded in Your Business Data: Unleashing Productivity with Copilot
Microsoft 365 Copilot connects AI-powered LLMs to your business data, delivering accurate and contextual responses anchored in your content and context.
By leveraging documents, emails, chats, and more, Copilot enhances decision-making and problem-solving. Real-time access to the Microsoft Graph ensures valuable insights flow freely, revolutionizing productivity.
Comprehensive Security and Privacy: Trust in Copilot
Copilot inherits security, compliance, and privacy policies from Microsoft 365, guaranteeing robust protection.
Two-factor authentication, compliance boundaries, and privacy safeguards instill confidence in data handling, fostering trust in Copilot as a secure AI solution.
Data Protection at All Levels: Privacy Assurance with Copilot
Copilot safeguards tenant, group, and individual data through advanced permissioning models, preventing leakage across user groups.
Individual data access is limited to maintain privacy, providing organizations with peace of mind regarding sensitive information.
Seamless Integration into Productivity Apps: Copilot in Action
Copilot seamlessly integrates into popular productivity apps, delivering a consistent user experience.
With Copilot embedded in Word, Excel, PowerPoint, Outlook, and Teams, users can access its capabilities without disruption, streamlining workflows.
Adaptive Design for Continuous Growth: Expanding Capabilities of Copilot
Copilot's foundational skills enable content creation, collaboration, and automation.
As Copilot learns new skills, such as CRM integration or document translation, its potential for personalized and efficient AI-driven workflows expands, driving innovation in diverse domains.
Final Words: Microsoft 365 Copilot Revolutionizing Productivity with Responsible AI
Microsoft 365 Copilot is set to revolutionize productivity by harnessing the power of responsible AI.
With a strong commitment to data security, privacy, and responsible AI practices, Microsoft has developed Copilot to deliver enterprise-ready AI at scale.
By integrating Copilot into its suite of productivity apps, including Word, Excel, PowerPoint, Outlook, Teams, Microsoft Viva, and Power Platform, Microsoft empowers users to unlock their full potential and enhance their work processes.
The recent announcement of Dynamics 365 Copilot further exemplifies Microsoft's dedication to bringing AI advancements to all business areas.
As Copilot undergoes testing with select customers, their valuable feedback will shape and refine the AI models for future implementation. With Microsoft 365 Copilot, organizations can expect a transformative AI experience that drives efficiency, collaboration, and innovation.